Graudu 68, Rīga, Latvia, LV-1058, +371 67802750 +371 29229083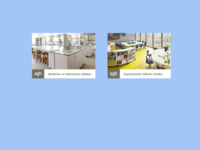 www.agh.lv
Legal information
Company name
AA Active SIA
Registration number
40003735621
Legal address
Graudu iela 68, Rīga, LV-1058
Company management
Name, Surname
Didzis Glāzītis, Board member
Description
We manufacture furniture for medical institutions and laboratories, stainless steel furniture, metal furniture for individual orders.
Our offer includes furniture project development of medical rooms, laboratories, utility rooms, kitchens, etc. We elaborate individual furniture design according to space requirements and customer needs.
In addition, we offer ergonomic laboratory chairs, screens systems and ergonomic school furniture made in Germany.
Categories
Keywords
medical equipment / equipment / furniture / piece of furniture / metal furniture / school furniture / ergonomic school furniture / laboratory / laboratory furniture / kitchen furniture / kitchen /