Marks M Ltd. salon ,,Nakts Mēbeles,, Berga Bazārs
Elizabetes iela 85a/1, Rīga, Latvia, LV-1050, +371 67285460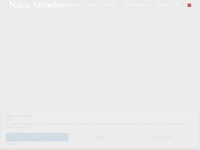 http://www.naktsmebeles.lv
Legal information
Registration number
43603011849
Legal address
Elektrības iela 8b, Jelgava, LV-3001, Latvija
Company management
Name, Surname
Juris Griķis, CEO
Description
Combining modern technology with handwork, the company creates high-value products, "real things" that are valued by customers in the Baltic States, Scandinavia, Russia and elsewhere. Nakts Mebeles is known since 1998, when it started the business as a bedroom furniture manufacturer. Initially company produced solid wood beds, and later created the ergonomic pocket innerspring mattress factory that is known in Latvia as "Pils Matraci". Now the company offers also different styles of upholstered beds, Continental beds and home furniture. Business is based on the belief that good sleep is one of the most important factors for quality living. Any new product development means personal attitude towards the customer, the design, which supports good health and carefully selected materials. The bedroom is the place to renew body and soul. Each collection is supplemented with appropriate lighting and textiles to turn into the adventure not only the sleeping but also falling asleep and waking.
Categories
Keywords
Bed / bedroom. Bedroom furniture. Bedroom furniture. Double bed. Mattress. Mattress. Ergonomic mattresses. Orthopaedic mattress. Ergonomic mattress. Matresses. Mattresses. Pillows. Ergonomic cushions. Gel cushions. Feather pillows. Quilts. Duvets. Linens. Cotton linens. Flax linens. Rugs. Wool rugs. Sheets. Satin sheets. Bedside. Table lamps. Standard. Designer lamps. Designers. Cabinets. Built-in cabinets. Tables. Desks. Chairs. Bedside. Chest of drawers. Cloak. TV tables. Corridor furniture. Coffee tables. Shelves. Bookshelves. Furniture moving. Furniture assembly. Wooden bed. Couch. Padded bed. /
Products
Varbūt esat saskārušies ar situāciju, kad divguļamajā gultā katram gulētājam ir izteikti atšķirīg...