Rāmavas manor mission center, Association , Rāmavas Depkina manor
Rāmavas 9, Rāmava, Ķekavas pag., Latvia, LV-2111, +371 67916202 +371 26133833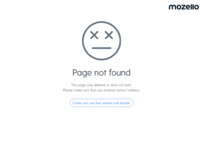 www.ramavasmuiza.lv
Legal information
Company name
Biedrība "Rāmavas muižas misijas centrs", Rāmavas Muiža
Registration number
40008194039
Legal address
Rāmavas 9, Rāmava, Ķekavas pag., Ķekavas nov., LV-2111,
Company management
Name, Surname
Ilze Berga , Board chairman
Description
I am Rāmava manor. My greatest pleasure is to provide wonderful feeling, warmth of the heart and unforgettable memories for those who have been my guests.
Categories
Keywords
Depkina mansion / Rāmava mansion / manor / banquet hall / camp / accommodation / workshops. /
Business inquiries
Pēdējais brīdis rezervēt vietu Ziemassvētku svinībām!  
Romantiski Šarmants vakars Franču gaumē! vairāk info www.ramavasmuiza.lv