School for children "Knābis" Ltd.
Brīvības gatve 221, Rīga, Latvia, , +371 67553934,+371 67994955 +371 29192944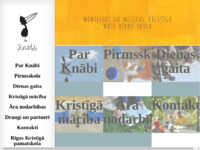 www.knabis.lv
Legal information
Company name
Mazo bērnu skola Knābis SIA
Registration number
40003565893
Legal address
Rīga, Brīvības gatve 221-1, LV-1039
Company management
Name, Surname
Diāna Gulbe, Board member
Description
Preschool educational institution "Beak" their work started 12 years ago, offering children , from age 2 to 7 to learn licensed program. In "Beak" children gets to know the world, discovering it themselves. We are certain – if environment in school is developing, then child can express creatively, improve itself experience and actively increase it with new ideas. Schools spiritual values is based on Christian principles, that we learn together with children. In weekdays we learn, what is love, peace, joy, patience, kindness, goodness, faithfulness, meekess, self-restraint. We participate in morning prayers for mum, dad and others family members, for our week in school and everyone in the world. That everyone in God's created world would feel loved, accepted, important. Our relationships is based on esteem, support and personal interest towards every child. Proffesional and loving teachers will help everyone feel good, encouraging them and helping learn (acquire) world around them.
Categories
Keywords
Kindergarten / preschool / for children / training / development school / private kindergarten / preparation for school / babysitting / education / individual groups / drawing / lessons / montessori. /