Rūpniecības iela 1, Talsi, Latvia, LV-3201, +371 27710848 +371 29990585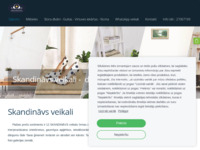 www.skandinavs.lv
Legal information
Company name
Skandinavs SIA
Registration number
41203024125
Legal address
Lielā iela 39-3, Talsi, LV-3201
Company management
Name, Surname
Raitis Grīvans, Director
Description
Ltd. "Skandināvs" offers the widest range of goods used in Kurzeme.- used clothing, furniture, glassware, miscellaneous household items, electrical appliances, interior things (exclusive alpaca, copper and brass ware, designer items), antiques and furniture, sporting goods (bicycles, skis, golf equipment), facilities for the disabled, etc. goods. The company's stores visited not only by locals, but also attracts customers from distant cities Latvian low price and its unique assortment of reasons. 

The company was founded in 2005, its founders Raitis Grīvans and Baiba Šeja. The company's main activity is retail sale of second-hand and second-hand clothes wholesale. SIA "Skandināvs" the company has eleven stores: Valdemarpils (2) Talsi (5), Sabile, Stende, and Aizpute, Kandavā.

Our motto :

Our work can tell a lot, but our goal is to do the work, so that they would bring blessing citiem- families, friends, employees, customers, partners ...
Ltd. Skandināvs motto: 
" Our success and achievements are a blessing to you!"
Categories
Keywords
Clothes for sale / used clothing / furniture / second hand furniture / dishes / lamps / chairs / sofas / retro / antique / used / Scandinavian / invalīdienm goods / children's goods / used goods / used clothing /